Review these tips with coworkers at your tailgate or toolbox meetings before work begins to help avoid potential hazards when working near natural gas pipelines or electric power lines.
Be Alert for Cross Bores
NIPSCO and other utilities use horizontal directional boring to install new utility lines. This is a common trenchless digging technique that avoids damaging streets, driveways and mature landscaping by passing beneath them. Although we do what we can to avoid sewer lines when directional boring, older sewer lines that are not easily identifiable may have gone undetected when

NIPSCO

installed utility lines in the past. As a result, we may have unintentionally bored a natural gas or electric line directly through a sewer line in what is known as a "cross bore."
Know the Dangers
A cross bore through a sewer lateral will impede the flow of sewage and eventually lead to a blockage. If you attempt to remove the blockage with mechanical equipment, you risk cutting a live natural gas or electric utility line, threatening lives and property with fire, explosion or serious electric shock.
Always call 811 and request an emergency locate before you attempt to clear a blocked sewer line using a mechanical cutting tool. Tell them you may be dealing with a cross bore. NIPSCO will respond within two to three hours to locate and inspect the natural gas lines. If a natural gas line cross bore is present, NIPSCO will correct it immediately, so you can clear the sewer line. NIPSCO does not charge for any of these services.
| | | |
| --- | --- | --- |
| | Coronavirus Cross-Bore Risk | |
| | Frequent cleaning with disinfecting wipes during the COVID-19 pandemic has led to an increase in sewer blockages as families flush used wipes instead of throwing them in the trash. This heightens the risk of plumbers encountering existing cross bores. Dispose of disinfectant wipes in waste bins instead of flushing them, and encourage your family, friends and customers to do the same. | |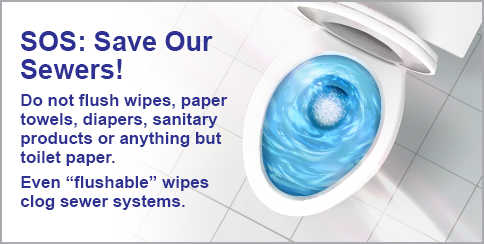 Clear Blockages Carefully
How can you protect yourself, your crew, and your customers?
| | | |
| --- | --- | --- |
| | • | Before clearing. Look to see if the home or business has gas service or if adjacent buildings have gas service. If they do, a cross bore could be involved, so proceed with caution: |
| | | | |
| --- | --- | --- | --- |
| | | ‣ | If possible, use an inline camera to assess the blockage before attempting to clear it. If the camera view is obstructed due to the clog, vacuum it out first. |
| | | | |
| --- | --- | --- | --- |
| | | ‣ | If a camera is not available, or you suspect a cross bore could be involved, STOP ALL WORK and call 811 for an emergency locate. NIPSCO will respond and help verify if a gas line is in the area of the sewer lateral or the area of blockage. |
| | | |
| --- | --- | --- |
| | • | During clearing. If you can't verify the cause of the blockage, use the least invasive equipment possible, such as a hydro-jetter. If you sense resistance that does not resemble a tree root or other common obstruction, do not force it. Stop immediately and call 811 for an emergency locate. |
| | | |
| --- | --- | --- |
| | • | After clearing. Natural gas pipes and electric conduit coating are typically colored plastic. If you have used a cutting tool, look for plastic on the blades when you withdraw it. Watch for bubbles escaping from the entry point of the clearing equipment or toilet and/or use gas detection equipment, if available. |
•
If you hit a gas line. Immediately warn all inhabitants and evacuate the area. Do not use a flame or anything electrical, as a spark could ignite leaking gas. From a safe location, call 911 and

NIPSCO

immediately.
•
If you hit an electric line. Warn others and leave immediately. Abandon tools and equipment. Anything in contact with the power line poses a serious shock hazard. Call 911 and

NIPSCO

immediately.
Safety Sewer Line Program
NIPSCO has implemented a sewer line safety program to identify and correct cross bore situations in our service territory. With our contractors, we partner with local municipalities to inspect sanitary and storm sewer lines for cross bores and resolve them when found. Contact Quentin Brown at QBrown@Nisource.com to learn more.
Would You Like to Know More?
Additional overhead and digging guidelines, emergency procedures, case studies, instructional videos and training tools can all be found at no charge to you on NIPSCO's
e-SMARTworker website.