Whether you need a complete overhaul of your public educational safety outreach web pages or just some fresh content, we're ready to help. With valuable information tailored for your key stakeholders—contractors, first responders, students, parents, and teachers—your brand-aligned website can become a favorite online customer destination in support of your company goals.
Our web and electronic offerings address topics such as safety, energy, and conservation education, in formats appropriate for each audience.
Available materials include:
Streaming videos
Activity Sheets and Interactive Games for kids
Articles and tips
Lesson guides for teachers
Pre-tests and post-tests for teacher assessment of student learning
Online presentations for third-party contractors and emergency responders
Surveys
Online learning and certification
Newsletter content and design
Eblast content and design
And much more—just ask!
Targeted, brand-aligned educational websites
If you're thinking it might be time to add a new, targeted educational outreach section, why not take advantage of our expert resources? We've got modular, ready-to-roll web content, and design specialists who will help you seamlessly integrate the new material into your online brand identity.
We also offer a wide range of companion outreach booklets, brochures, and visor cards that complement these websites and support your outreach efforts.
We offer three flexible websites that can be customized to meet the specific safety requirements of your service territory and regulatory environment:
E-SMARTkids™
A fun, engaging resource where students can learn about electrical and natural gas safety and sustainability
With videos, interactive games, experiments, and activities that educate and entertain, e‑SMARTkids includes messaging targeted exclusively for the K-6 educational community, students, and students' families.
The material is delivered in a colorful and energetic style that captures and holds the interest of young customers-to-be. It's designed to:
Teach students (and parents) how to recognize, prevent, and respond to utility emergencies
Encourage students and families to become more involved with your energy, conservation, and environmental sustainability messaging
Demonstrate your ongoing commitment to the health, welfare, and sustainability of the communities you serve—employees, local officials, and government policymakers
First Responder Beware®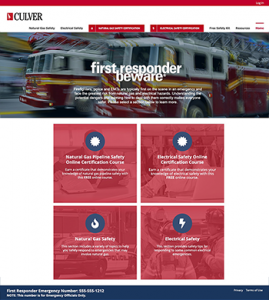 Vital hazard awareness education for firefighters, EMTs, and other first responders
Featuring comprehensive content developed with the assistance of the firefighting and utility safety training community, First Responder Beware is a vital online training resource for at-risk front-line response personnel. In addition to the structured modular curriculum, the site includes valuable train-the-trainer tools, safety videos, and links to other safety resources.
Course materials address both electrical and natural gas safety and hazard-awareness, including:
Electrical safety basics
The electric distribution system
Fires involving electrical facilities
Dealing with downed power lines
The properties and characteristics of natural gas
The natural gas delivery system
Gas incident response
Worker Beware®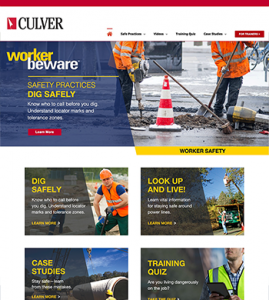 Safe work practices and accident prevention training for anyone working around overhead and underground electric and natural gas utilities
Our Worker Beware websites contain essential safety and risk mitigation training for at-risk third-party contractors and workers. Culver Company can apply your safety requirements in this website resource. Or, if you don't have any specific requirements, you can still leverage our best in class content.
The site demonstrates overhead and underground utility safe-work practices and includes:
Safety trainer's guides in English and Spanish
Training slide shows in English and Spanish
Presenter's notes/instructions in English and Spanish
How to dig safely, as well as how to work safely around overhead power lines
Case studies illustrating the dos and don'ts of working safely around utility assets
Online safety quiz
We also provide access to streaming versions of Culver Company's Worker Beware series of electrical and natural gas public safety educational videos.
Ongoing content management and

reporting included
For each of our safety educational websites, Culver Company will handle hosting, ongoing maintenance, and content updates—so there's no additional work for your IT team. We'll even secure a unique website domain name if you wish. Online usage reports, via a secure dashboard, provide valuable insight into online traffic and site usage.
Let's talk about your next web project
Request a demo of one of our existing website resources or tell us what you have in mind. We can show you how we can make your public safety website development process faster, less painful, and more cost-effective than doing it yourself in-house. Contact us.