With more than 46 years of industry experience, we've helped utilities document and benchmark their public safety program outcomes in nearly every regulatory jurisdiction in North America. We know how to generate, capture, and present results documentation that will stand up to regulatory scrutiny, exceed compliance standards, and give board of directors assurance that your safety programs are performing up to expectations.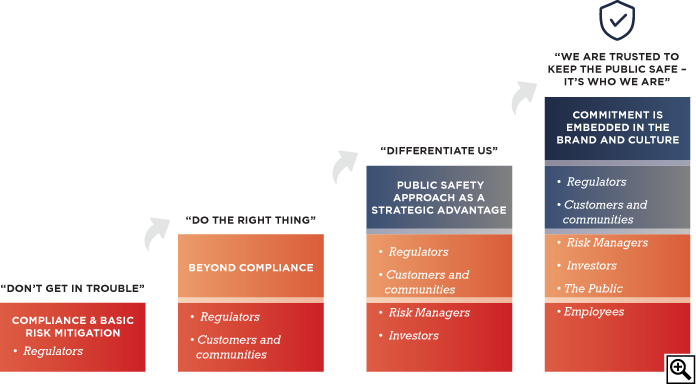 Culver Company can help you meet your compliance requirements, leverage your public safety investment for strategic advantage, and enhance your company's brand and culture.
Utility Commission Reporting
Whether you're filing an annual report with the state utility commission or dealing with the special preparation required for a general rate case, we can help you demonstrate and track the impact of your public safety programs.
Drawing from our dedicated databases, a utility-specific outreach library, and stakeholder engagement reporting systems, our regulatory experts will work seamlessly as part of your team to compile and report on:
Public safety program effectiveness
Industry benchmarking data
Damage reduction metrics
Energy efficiency metrics
Supplier diversity program figures
Audit Documentation
In addition to dedicated databases, secure online reporting, electronic dashboards, and jurisdiction-specific updates, our team provides you with all the information you need to support an audit, including:
American Petroleum Institute (API) RP 1162 baseline and supplemental activity documentation
Audience demographics and firmographics
Required and supplemental contact records and audience summaries
Certification statements, including USPS 3602 forms
Evidence of multilingual communications where necessary
Communication recipient maps with specific geo-targeting capabilities
Utility customer-specific outreach library with communication samples
All of your critical information is available in hard copy as well as digital form, and in secure web-based reporting sites, safely archived and readily accessible to support multiple utility business units and program managers.
PHMSA Filing
In fact, we go beyond baseline messaging and other requirements to provide additional safeguards to your stakeholders. In addition to full documentation for every one of your projects, our comprehensive reports include detailed information by stakeholder audience, including participation rates, knowledge retention, and changed behaviors. Web-based data tracking and metrics are accessible to your entire internal team, and include:
Program development procedures
Identification of key stakeholder audiences
Message content
Delivery frequency
Message delivery method
Baseline program enhancement
Program documentation and recordkeeping
Program evaluation and effectiveness
RP 1162 Compliance
Our comprehensive approach includes:
Collecting all of your natural gas assets
Identifying all program pipelines
Determining all key stakeholder audiences
Creating educational and training materials in a language and format that helps to ensure engagement, comprehension, and recall
Programs are engineered with an evaluation plan and assessment tools that monitor and record data throughout every phase, measuring the impacts of program participation, knowledge retention, and changes in behavior. This helps shape a continuous improvement program that goes beyond mere compliance, and helps you create an effective, sustainable, prevention-based public safety outreach program that ultimately reduces pipeline accidents.